SkyTeam is one of the three major airline alliances in the world. Its most prestigious status is SkyTeam Elite Plus that grants you several perks such as priority security, check-in and boarding, lounge access and extra baggage allowance. SkyTeam has several member airlines, each of which has their own qualification requirements, which makes it difficult to know what the easiest route to SkyTeam Elite Plus might be. Not anymore, because yours truly has crunched the numbers and is ready to reveal you which airline gives you SkyTeam Elite Plus the easiest way possible.
Note: In this post, I will go through my findings on almost all SkyTeam member airlines. However, I have excluded Czech Airlines and Kenya Airways because they have not published online any details on how many points you earn for each fare class. Also ITA Airways is excluded, because they are a fake member.
The easy way to SkyTeam Elite Plus
There are two routes to the ever-so exclusive SkyTeam Elite Plus status. You can obtain the status by the number of flights or by the number of status miles/points. In this post, I will cover both cases. I will start by covering status by the number of flights and only then move on to getting the status by points.
SkyTeam Elite Plus by number of flights
If you fly frequently but your flights are short ones or you always pick the cheapest ticket type, you may not get far in terms of tier points, but you will be accumulating a bunch of flights. For some airlines, this is all that is needed. Regardless of the distance or fare class, the only thing that matters is how many times you have boarded an airplane.
And do remember that each flight counts separately! If you fly from Helsinki to Madrid via Amsterdam, this counts as two flights, HEL-AMS and AMS-MAD are counted separately. Back and forth, this is already 4 flights! This is a killer deal for someone who flies short distances on a weekly basis.
The easiest frequent flier programs to get SkyTeam Elite Plus based on number of flights are:
The best program to recommend for everyone is AirEuropa Suma. 26 flights to SkyTeam Elite Plus is the lowest number in the entire SkyTeam. On top of that, you can accumulate flights on AirEuropa and other SkyTeam airlines, so you are not tied to one company in particular.
Middle East Airlines is almost as easy, but the flights must have an ME code and they need to be operated by Middle East Airlines or a SkyTeam member.
SkyTeam Elite Plus by tier miles/points
The most common way to get SkyTeam Elite Plus status is by collecting enough tier points. This often requires way fewer annual flights, but you have to travel smarter. Not all booking classes give the same number of points and different airlines give very different amount of points for other member airline flights. Our search engine is a great tool for optimizing your tier points.
In this section, I will inspect how many points you will get if you fly in the airline's own economy class and business class. And how many points you will get on the average from the partner airlines in economy and business. I consider the cheapest fare classes that gives more than 0 points for both economy and business class.
I report my findings for a) a short 200 km flight, b) a medium 2000 km flight and c) a long 8000 km flight. In my plots, you will see how far each flight takes you to SkyTeam Elite Plus for each airline.
Note: AeroMexico and AirEuropa give points based on dollars/euros for their own flights and therefore their own flights appear as 0 in the plots.
A short flight
Short flights do not earn a lot of points in general, but let's see how close a 200 km flight takes you to SkyTeam Elite Plus in each frequent flyer program.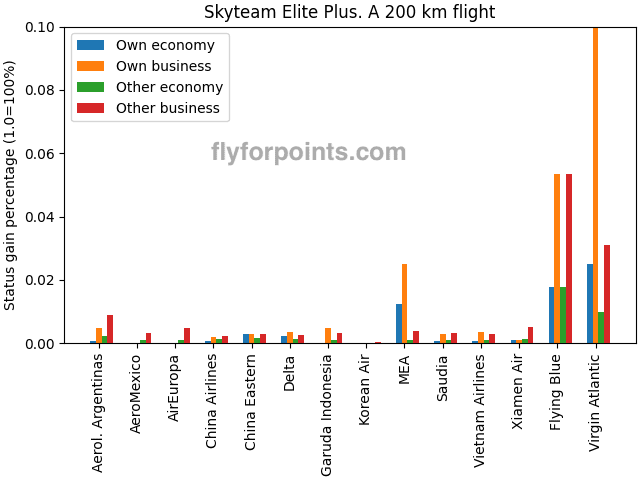 In the plot, you can see four bars for each airline representing their own economy and business class, and economy and business of other member airlines. This is bad news for economy class passengers. None of the frequent flyer programs take you too far. In economy class, the best compensation comes from Flying Blue.
Virgin Atlantic may look like they give a lot of points for their own customers, but in practice, they do not have flights this short to begin with, so their stats are merely theoretical. Nevertheless, Flying Blue and Virgin Atlantic are the best programs for business class passengers.
A medium flight
At 2000 km, one should already see a significant increase in points. Let's take a look at the plot this time.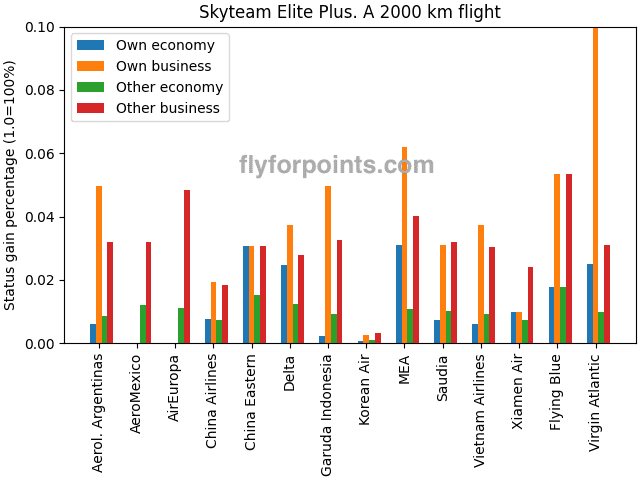 Many airlines give a clear preference to their own customers. Flying Blue is the best for economy class passengers regardless of the airline. However, people who mainly fly China Eastern, Delta, Middle East Airlines and Virgin Atlantic might want to stick to their main airline for economy class.
For business class passengers, AirEuropa and Flying Blue are solid choices regardless of which airline you fly most frequently. Even other airlines' business class takes you closer to SkyTeam Elite Plus than what they do in many airlines' own programs. Virgin gives the same amount of points for their own flights regardless of the distance, so if you manage to fly Virgin Airlines as short and cheap as possible, you would get some bang for your buck.
A long flight
Long intercontinental flights usually take you towards a status the fastest. Let's see if the situation changes a lot if you fly long distance.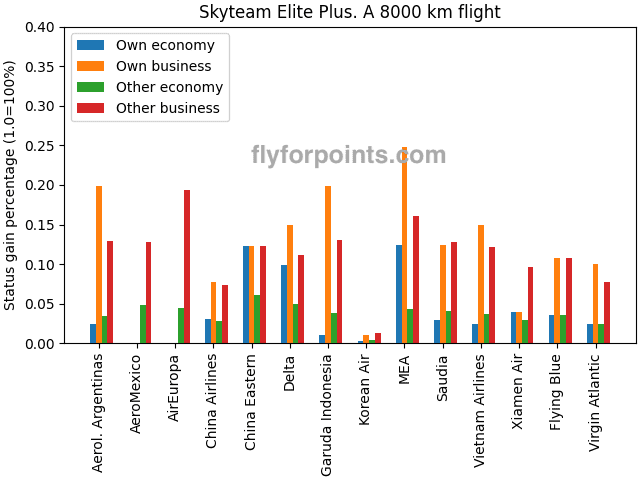 For long flights it's evident that Virgin Atlantic and Flying Blue cannot keep up with the pace and they reward you proportionally very poorly when comparing them to other airlines. China Eastern and Delta are the best for economy class passengers regardless of the airline. If you fly Middle East Airlines, stick with their program instead.
For business class, AirEuropa is the king! If you fly in their business class back and forth, you are already around 40% there for SkyTeam Elite Plus. This only gets better as you will get the best deal even if you didn't fly AirEuropa at all. For their own flights, it is difficult to compare given that they are tied to euros spent.
Conclusion
In summary:
If you fly frequently but your distances are short
If you fly long distances as well
Mainly in Economy Class
Mainly in Business Class
All in all, SkyTeam has a couple of easy options, so you might as well go with them. I hope this post has been useful. At least, I have it clear now which airline I should focus on for my SkyTeam Elite Plus!