Finnair business class in Europe has a service concept I have never really understood. On one hand, Finnair likes to set their prices to premium level but on the other hand, they don't want to give you any value for their money. The only value I see in Finnair business class in Europe is that you will get 32 kg per luggage instead of 23 kg you would get in economy. This means that a business class ticket or an upgrade can be a killer deal if you have to move a lot of stuff between countries. What makes it better is that if you buy an economy class ticket with a piece of luggage, you will get an extra one for free if you upgrade to business class. What is more, every single piece of extra luggage you buy can also be up to 32 kg each. Note that a business light fare does not even give you this perk
Lounge access and priority
Finnair business class comes with lounge access unless if you go with a business light fare. This may be an excellent experience or a big disappointment. The Finnair lounge in Helsinki for European flights has seen better days, but for example, in Paris CDG, you will get to experience a decent lounge. You will also get to use their business class check-in, priority security and priority boarding.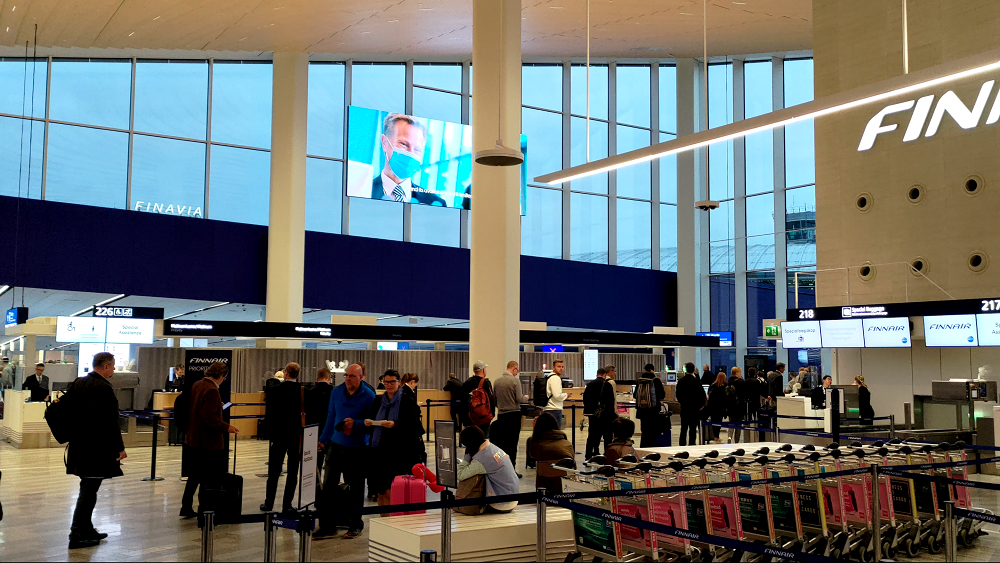 In practice, priority boarding is not available half of the time. Mostly the airport workers don't care at all or mess it up one way or another. Priority security is available on most airports that have such a facility to begin with. Business class check-in lines are also always available, so no sloppiness there.
Priority baggage handling is also something that may be there or not. Sometimes you will get your luggage among the first bags when you have a priority tag on them. Sometimes your bag is the last one to arrive. This is one of the most inconsistent priority perks, but I get it that it is not entirely in the hands of Finnair either.
Food and beverages
There will not be a welcome drink apart from a bottle of water, but you can request for beverages throughout the flight. Mostly, however, the flight attendants do not want to do anything after they have served you your meal, so do not expect them to actively ask if you want anything. I usually get the feeling that I am just bothering them if I ask for anything more to drink. The flight attendants are usually friendly, but they aren't too attentive.
Food is also a joke in Finnair business class in Europe. On short flights, you will get something as small as a sandwich and on longer flights you will get a warm meal that can be a tasteless omelet or a steak that has the texture of a rubber boot. And to make things worse you will only get one option! And your one option can be anything. I don't have any dietary restrictions myself, but I have paid attention the fact that your only option might not be lactose-free or it might have pork which is something people on halal diet will not eat. So if you follow a special diet, you must preorder a special meal and you shouldn't count on them having any alternatives.
WiFi
Finnair has WiFi on most of its planes, but you will have to pay for it. In business class, you will only get 30 minutes of free internet and that's it. For example, Aegean gives fast internet for the entire flight for their business class passengers. Finnair doesn't. Only some of the magazines and newspapers are free to read in the Nordic Sky portal, but for the rest of them, you still have to pay.
Conclusion
Finnair business class in Europe does not really give you anything. You won't get a nice experience, but instead, you will get to hold down your vomit trying to eat your only meal option. I would only fly in business class if I get a free upgrade, need more luggage allowance or needed more points for my flights. But frankly with our Fly for Points search, you can find a lot of cheaper alternatives for a lot of points than Finnair European business class. Oneworld status customers will get all the priority perks anyways even when flying in economy class, and especially for those people the added value in Finnair business class in EU is low.