In this post, I will be reviewing Finnair's intercontinental business class on my flight from Helsinki to Osaka. It's no secret that the European counterpart of Finnair business class leaves a lot to desire, but the intercontinental experience is still quite solid. Of course, Finnair has been cutting down the service, but not without introducing new stuff too.
Check-in
Finnair has a dedicated check-in area for business class passengers and oneworld status holders that is right next to the security check area at Helsinki Vantaa Airport. The check-in is open all day long which means that you can pop in as early as you want for the Finnair lounge experience (not available for business light passengers). You can even drop your bags a day before your trip – how cool is that! 😎
You have a generous baggage allowance of 32 kg in business class (even if you upgraded). But bare in mind that you have a limited number of bags. Typically, you can take one bag only, but on Japan flights you can have two. If you have a business light ticket, you can't take any bags at all. If you have an economy classic or flex ticket and you upgrade to business class, you will get an extra piece of luggage with the upgrade.
Boarding
Finnair typically lets people with kids and disabilities board first, and after that, there will be time for business class passengers (and all oneworld status holders) to board. On intercontinental flights, there is usually the option of boarding at any time through a special priority lane.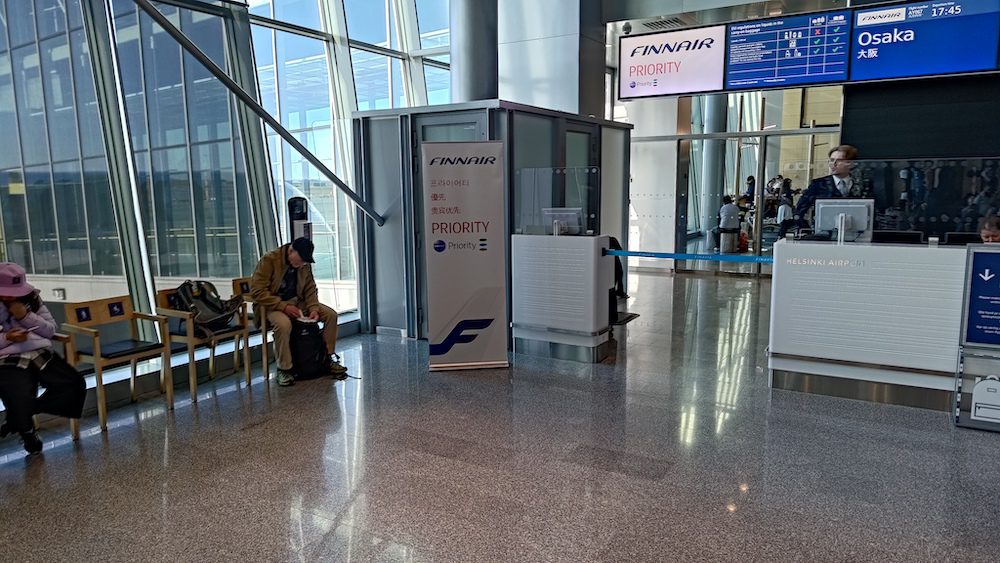 Once on board, you will be served a welcome drink. That is water, blueberry juice or sparkling wine. I can't drink anything fizzy when flying or I risk getting my stomach upset, the blueberry juice is heavily watered down (only 12% juice) with heaps of added sugar, so the only real option is water in my opinion… Which is a bit sad.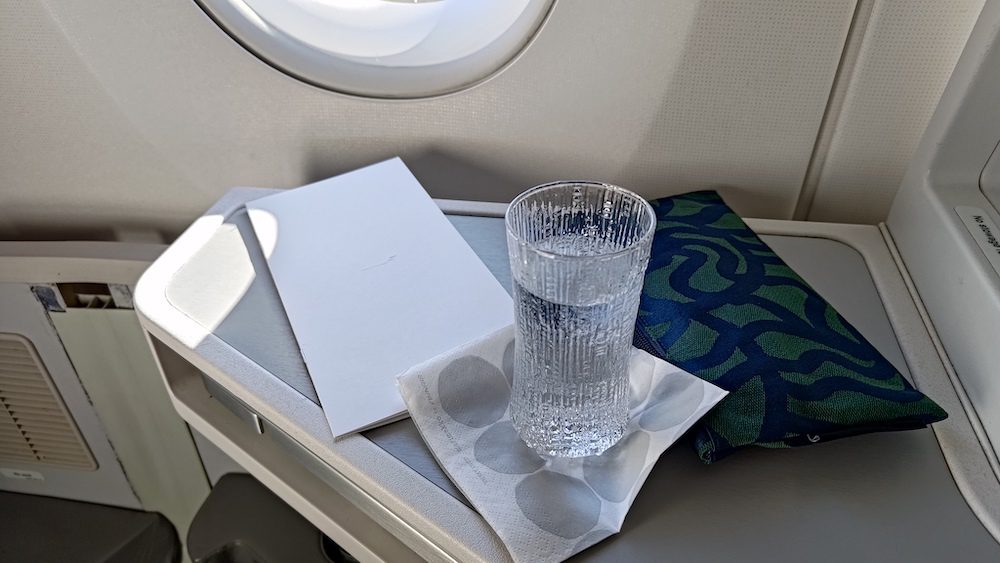 Amenities
You will have a nice pillow and a warm blanket to help you sleep and sandals you can wear to walk around in the cabin. On top of these, you will have a little something to take home with you. That is a genuine Marimekko pouch (Marimekko is kinda big in Finland) in varying colors filled with a Marimekko eye mask and some crappy lotion.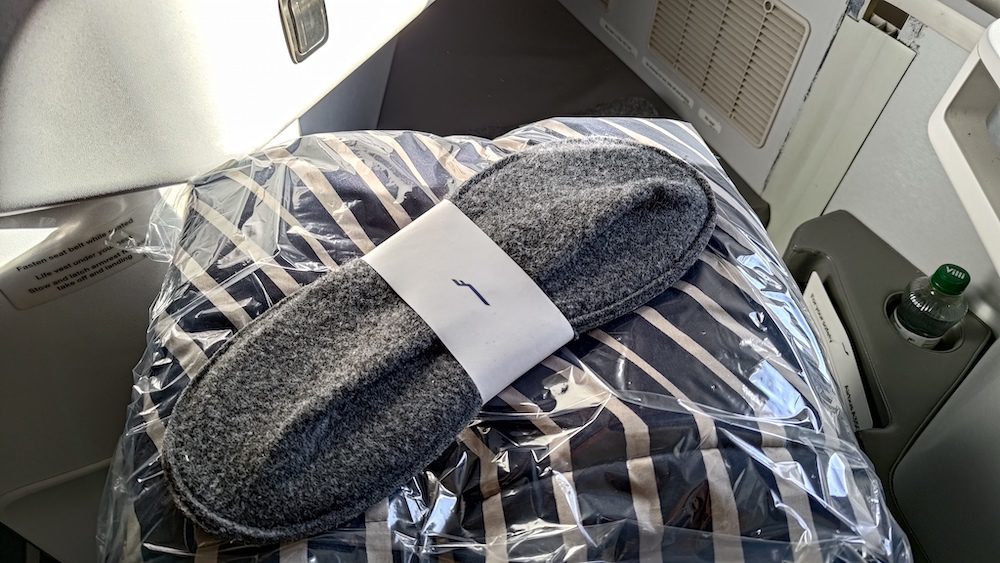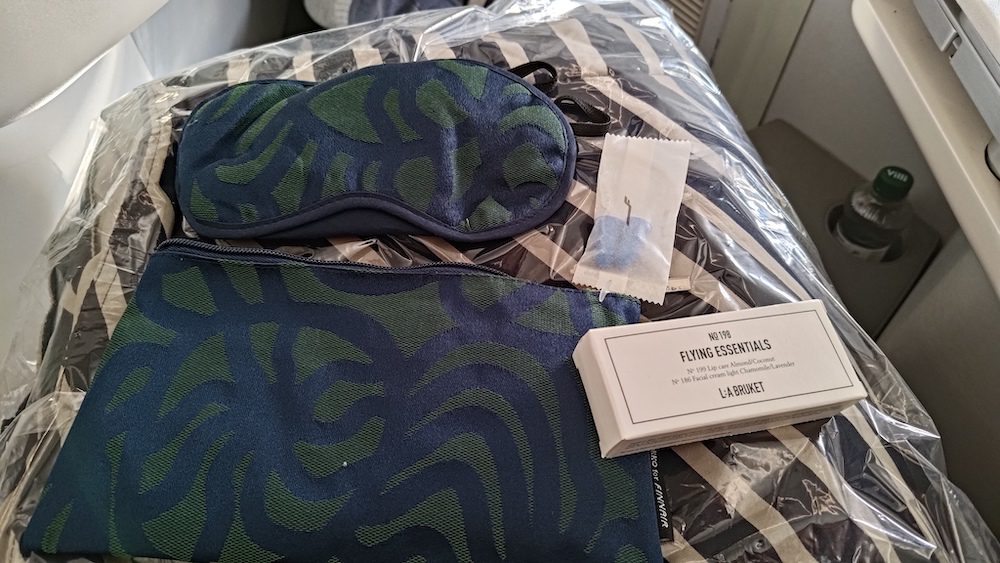 Food and beverages
Finnair serves food two times on the flight. Once after take-off and once before landing. Food is served on a single tray, so it's not really a fine dining experience. At any rate, the food is good. You can pick your main course and dessert. However, the meal before landing is the same for everyone – so if you have any dietary restrictions, order a special meal online beforehand.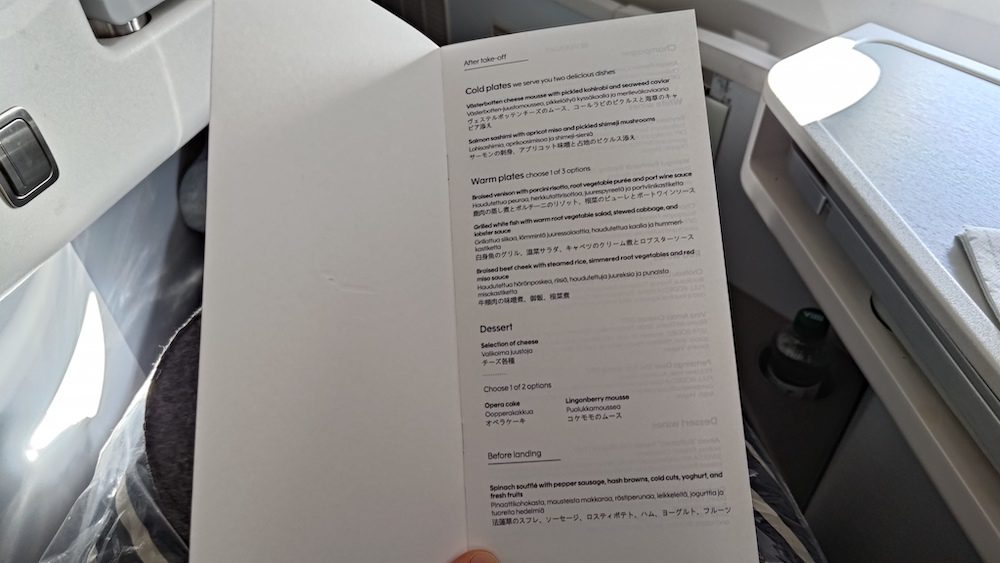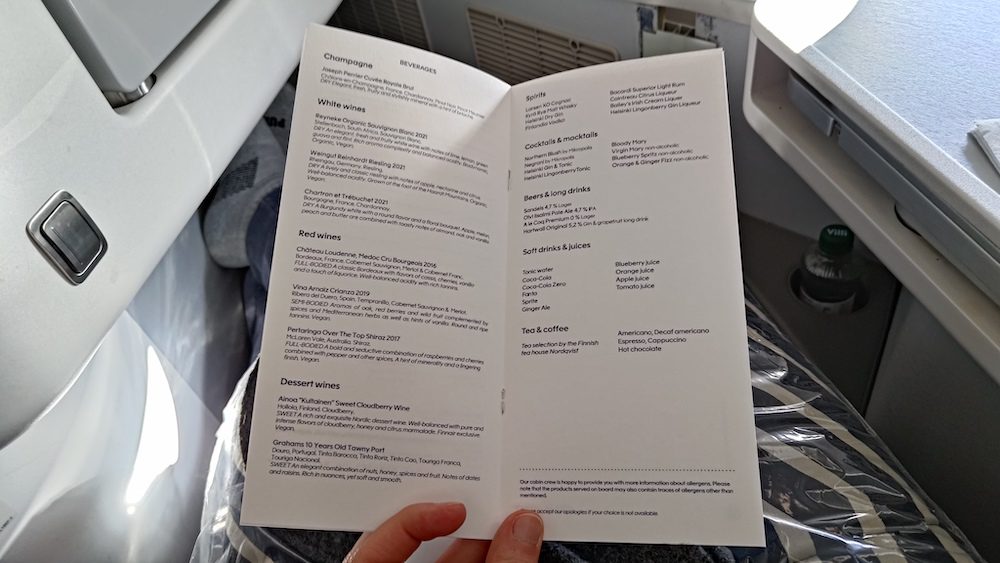 The main course I decided to go with was venison because I don't get to eat it that frequently. It was extremely good and well cooked! 😋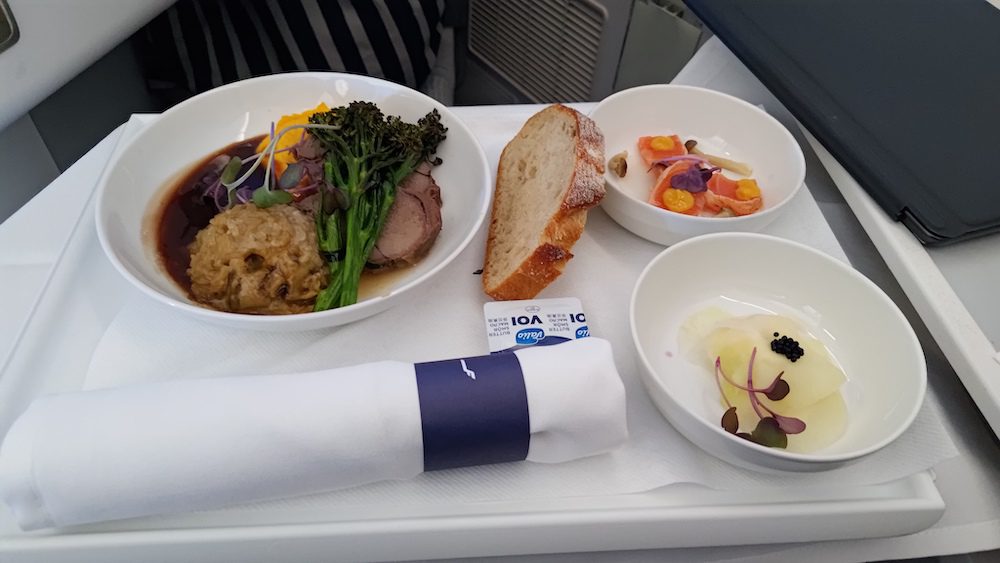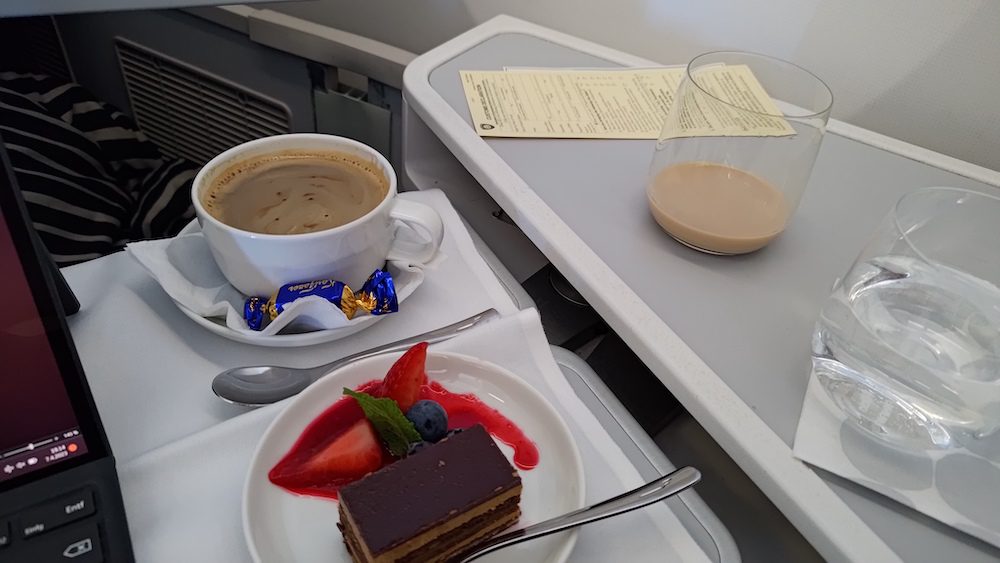 Throughout the flight, the flight attendants served small snacks which is a good thing given how long Asian flights are nowadays after the whole Ukraine-Russia situation.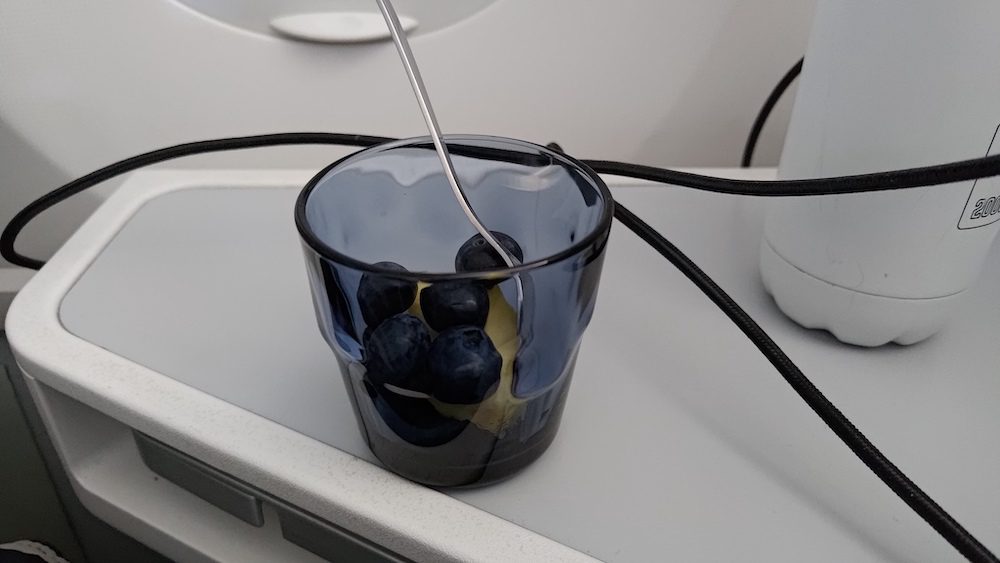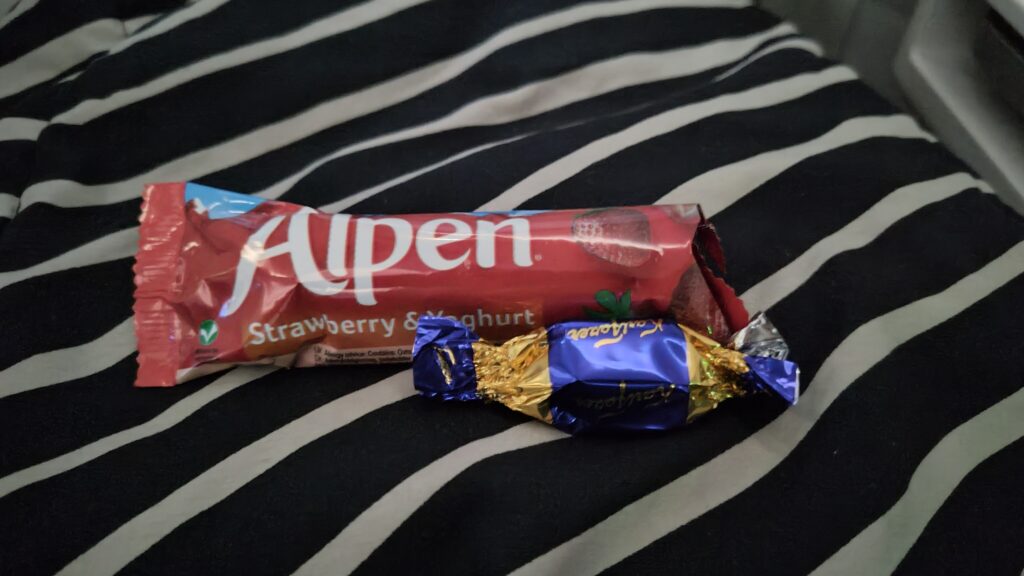 Before landing there was a substantial breakfast. It was good and really set a good tone for my first day in Japan.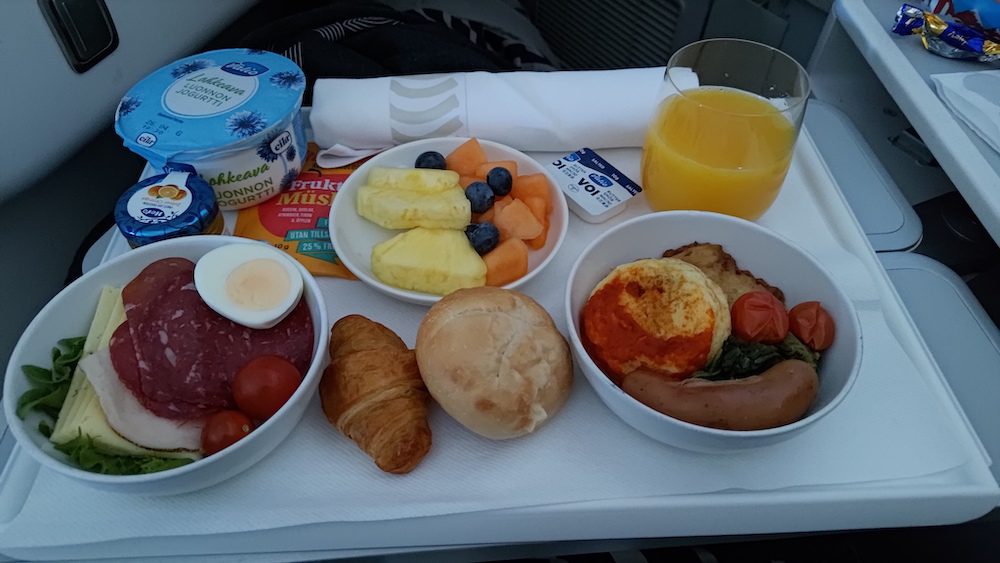 Entertainment
Finnair intercontinental business class has a nice big screen for you to watch videos on. They have an okayish selection of movies including some of the recent ones too. You can also play games such as Angry Birds. As for the wifi, you can use it for free for an hour only and you can't stream or use a VPN. If you need more time or want to watch YouTube or use a VPN, you have to pay more.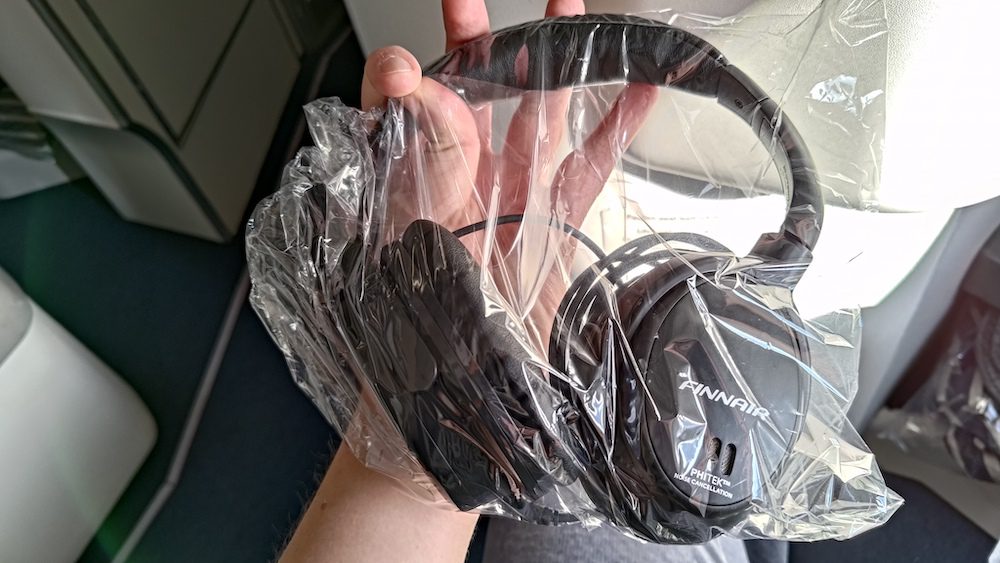 Seat
The seat is okay for sitting and especially the ones next to the window have a super nice view given that you are sitting a bit towards the window. The seat is mechanic and goes up and down. Finnair's old business class had massaging chairs, but those are long gone.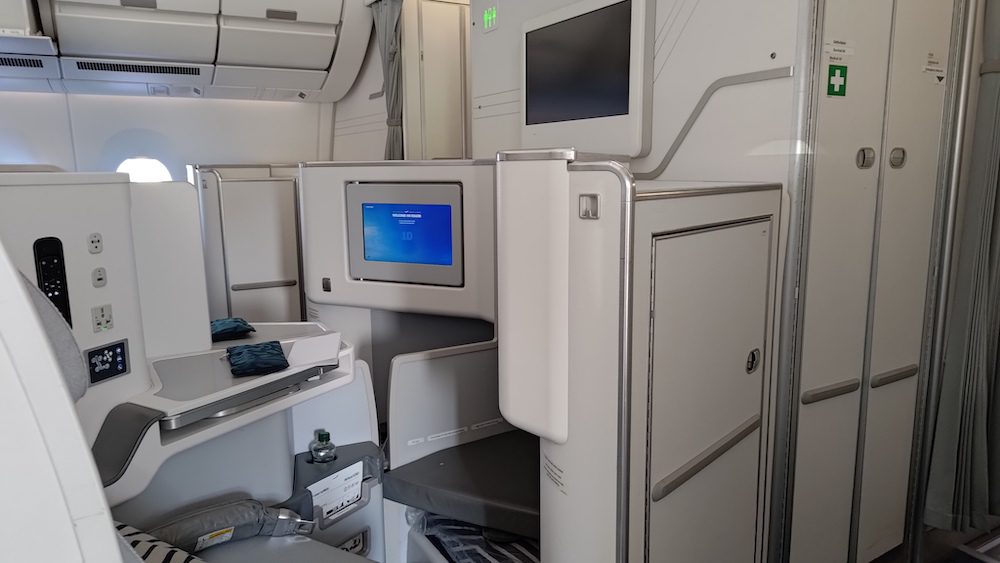 For sleeping, there is enough space for tall guy like me (193 cm) to lie down comfortably. However, there is very little room to move my legs sideways. I like to sleep on my side and I don't want to have my legs on top of each other, but there is very little space for me to have my legs any other way than on top of each other. What makes matters worse is the headrest that is attached to the seat. It basically prevented me from sleeping. It is impossible to have the pillow on top of it so that it wouldn't feel uncomfortable.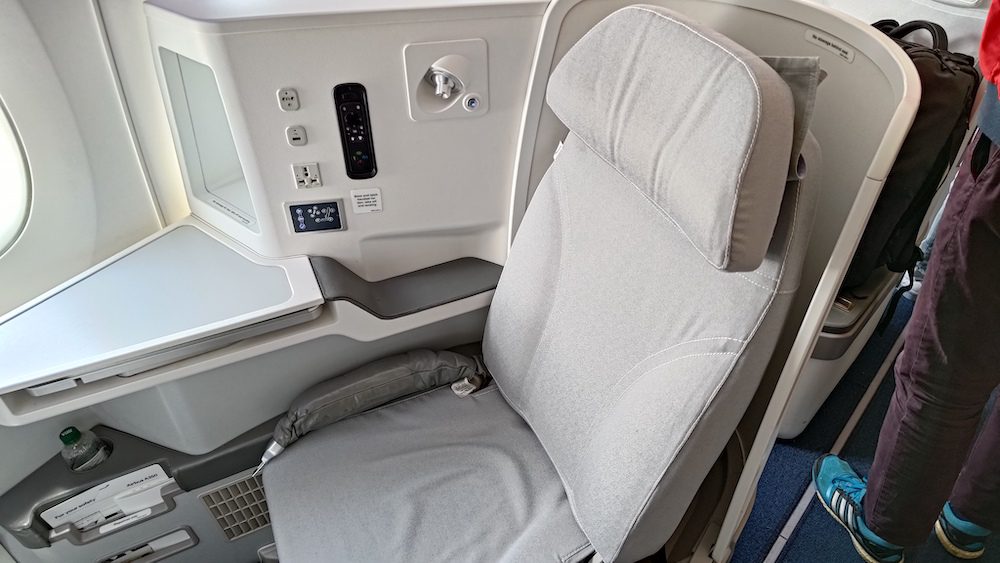 Conclusion
Finnair has done it better before with massaging chairs, several choices of starters, main courses and desserts, and with a more elevated fine-dining experience. Then on the other hand, Finnair staff now walks around periodically in the cabin to see if anyone needs anything so that you do not feel forgotten about. Back in the days, their staff disappeared as soon as they had collected the plates. All in all, Finnair intercontinental business class is a great experience and I would certainly recommend it.