Qatar airways is a 5-star airline, and while they operate the magnificent QSuites, they are notorious for their lack of interest in opening their lounges for oneworld Sapphire and Emerald status holders. In this review, you will learn what your lounge option is at Doha Hamad International Airport if you have oneworld Emerald status. While the lounge does offer good food, other aspects are not great.
Location
If you are transiting in Doha, you will most likely need to clear a security check before accessing the lounge. The lounge is located close to gate A1, so just keep on walking towards A gates. The airport is humungous, and you might want to hop on a train if you are on the other end of the airport. Walking distances are long, however the airport feels larger than it needs to be. You may need to walk past several endlessly long and over-priced tax-free areas before you get where you are going.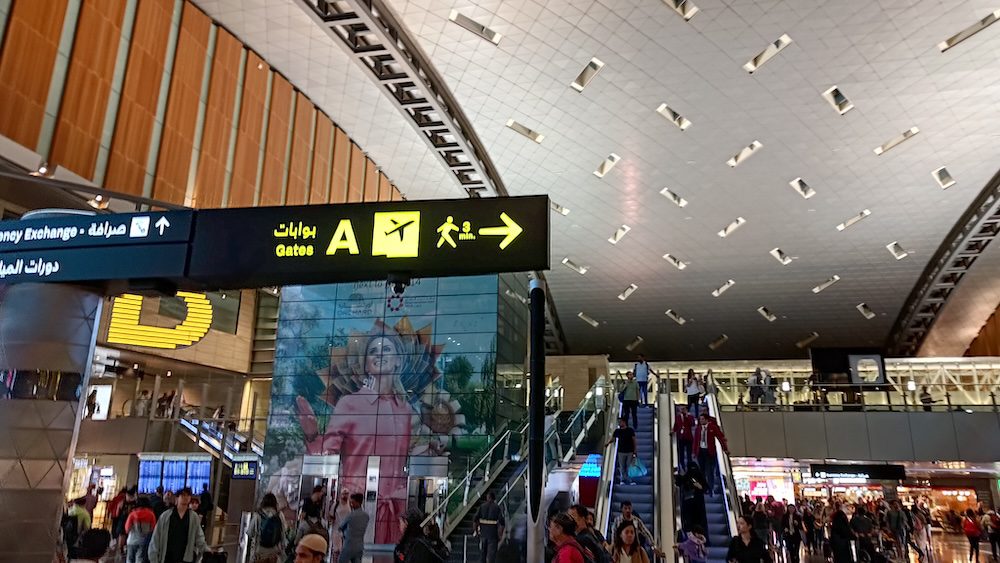 The lounge has a typical setup of sharing the entrance with a business class lounge. Just climb up the stairs once you have checked in to the lounge to reach the Platinum lounge that is supposedly a First Class lounge for non-revenue ticketed passengers.
Decoration and amenities
The lounge is very small for what it is. There are three main areas in the lounge, a restaurant, a lounge bar and a quiet room. The lounge seats are comfortable and the lounge looks nice and well-maintained.
The view from the windows is a bit sad. It makes me think more of a jail than a fancy lounge. I suppose there is nothing that the lounge administration can do about it. Then again, the airport just like Qatar Airways are owned by the Qatar government, so they could pull things off differently as well.
The lounge is crap in the other amenities section. Nothing First Class about it at all. There is a prayer room – that's about it. You may be able to take a shower, but most likely you will be told to go downstairs and shower in the business class lounge. Heck, I couldn't even take a crap in this lounge for some time, because the toilets were closed for an hour "for cleaning"! Cleaning what exactly? There was a guy in the bathroom all the time cleaning on a continuous basis already. Why would they need an hour for cleaning on top of that?
Can you sleep in Platinum lounge?
Finnair has made a big deal with Qatar which means that Nordic people will have many more flight connections at Doha… The only problem is that many of those connections entail 7 hours at Doha at night. I was crazy enough to go with one of these connecting flights – surely you can sleep in the lounge, right? Uhm… Pack your own pillow and blanket with you, because Platinum lounge is not sleeper friendly!
The quiet room was my first pick for trying to sleep. I quickly realised that the seats are not meant for sleeping at all. They force you to be in an uncomfortable position that is just not good for sleeping. Yet, I heard people snoring. I took a peek – and surely enough – the ones who were snoring, were actually sleeping on the floor. I gave that a try only to realise that the floor is cold and that I should have packed a pillow.
But not all hope is lost! The bar area has big sofas one can sleep on. So I headed there. Yeah… Nice try. You can't sleep here either – not without a blanket. The ACs have been turned on to the max full Arabian style and the flow of cold air directly on top of the sofas just makes sleeping impossible. To show you guys how strong the airflow is, take a look at the following video to see how much the plants next to the sofas were moving just because of the draft from the AC.
The bottom line is, no you cannot sleep in Qatar Platinum lounge at Doha airport. If you plan on sleeping here, a thick blanket and a pillow is a must! Perhaps something to cover your eyes and ears with too.
Food
Food is the best part of the lounge! There is a buffet that changes during the day and also an à la carte menu. Just scan the QR code at your table and order on your phone. Perfection!
There is plenty of food and it is so good! Even the food in the buffet is just amazing. This lounge may not be for sleeping, but it definitely is made for having a feast! The waiters are super polite and bring you food at a super fast pace.
Beverages
There is pretty much everything you might want to drink – from soft drinks and juices all the way to alcohol. Yes, you can get drunk in Qatar, get over it already! There are also coffee machines that grind beans freshly for you.
Conclusions
I had very high expectations given that Qatar Airways is all fancy and everything… But all that is just marketing. The food is good, that's about it. The lounge is very basic and it cannot compete with the likes of Japan Airlines First Class or Cathay Pacific First Class lounges.