I am no stranger to Cathay Pacific as I had already enjoyed their superior premium economy class and LHR lounge, but I was yet to experience their truest First Class experience. Cathay Pacific hosts two amazing First Class lounges at Hong Kong airport. Today, I got to visit The Wing First Class lounge. It was an unforgettable experience!
Location
The Wing First Class lounge is located close to gate 2 at Hong Kong International Airport terminal 1. If you are flying oneworld, you will mostly fly from this terminal. Some Cathay Pacific flights leave from a satellite terminal, but you can still access this lounge before heading to the smaller terminal building.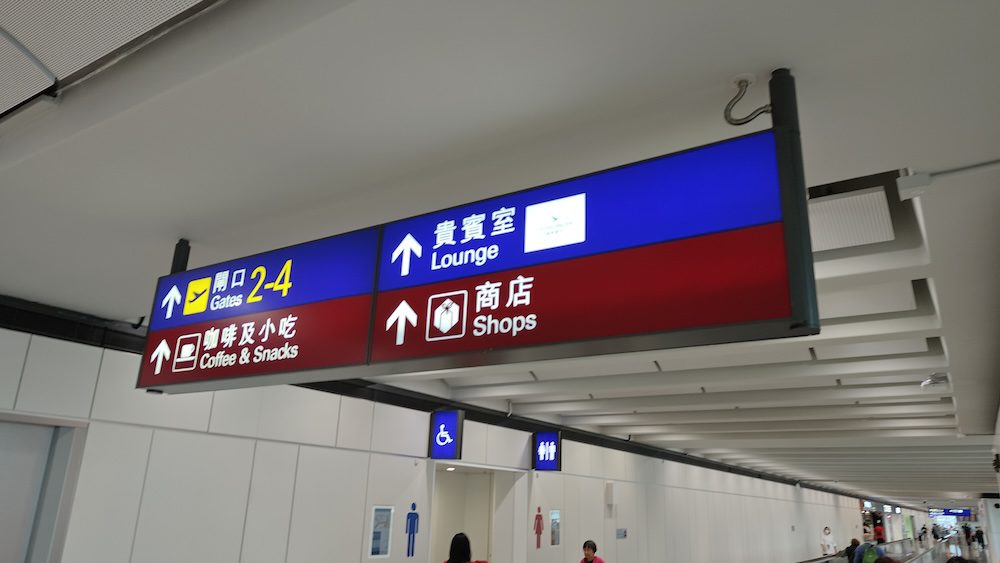 The Wing First Class lounge has two entrances. Either you enter through the door that is on the same floor as the gates or you get in through the tax-free shopping area upstairs. The former door is shared between the regular lounge and the First Class lounge. After getting in, walk up the stairs and access the lounge on the right hand side.
Decoration
The lounge has two dining areas and a lounge/bar area. One of the dining areas is an à la carte restaurant and the other has a buffet with some warm food options, snacks and a coffee/tea bar. The lounge is located upstairs with views to the gates. The seats are comfortable and the lounge has a very spacious feel to it.
The big windows help in changing the mood of the lounge as the sun sets giving a more elegant feel to the lounge. The bathrooms are pitch black – to such a degree I almost didn't find the door out the first time.
Buffet
The first food section is the buffet. There are not a lot of options, but the food is so good. I ended up overeating. It's just so delicious!
There is also an entire menu for different kinds of tea. The tea master didn't really speak English, so it was a bit awkward when I tried to point and ask for a tea and he would just repeat my words back at me… After some time, we came to an understanding and I got my tea.
Fine dining
You should raid the buffet later, because there is an even better option for food. Namely, the à la carte restaurant. If you are a fan of buffets, there will be a starter buffet here as well, so don't you worry.
The restaurant follows similar dark decorative themes we can see in other parts of the lounge as well. It definitely has an elevated First Class feeling to it.
After placing the order, I went ahead to raid the buffet. There are all kinds of delicious starters to pick from!
Bar
There is a bar with super nice bartenders in the lounge. Their non-alcoholic signature drink was divine. I want to got to Hong Kong again just for the drink!
There are some self-service areas in the lounge for soft-drinks, water, wine and juice. There are also bottles of Champagne lying around.
The cabanas
Private hotel-room like rooms with massive bathtubs and showers that are called cabanas can be booked freely in the lounge. They are really amazing and I just had one thought in my head when visiting them: what did I do to deserve this?
You will have everything you might need to freshen up in the cabana – and all of it is just for you. Put your bathrobe on and apply some moisturiser on your face – you deserve that!
Conclusions
Cathay Pacific The Wing First Class lounge has everything one would hope to see in a First Class lounge. Extremely good food. A buffet! Super friendly staff and the thing that just does it for me – the cabanas! Taking a bath in a lounge is probably the most luxurious thing I have done in my life. Can I just move in and never leave?