Aegean sets rather high standards for economy class service in Europe, and after experiencing what they had to offer, I got curious about their business class. Aegean offers a business class bidding program where you can name your price and if nobody bids higher, you will get an upgrade for the price you named. I went with the lowest allowed bid of 70€ and got my upgrade. 😁
Check-in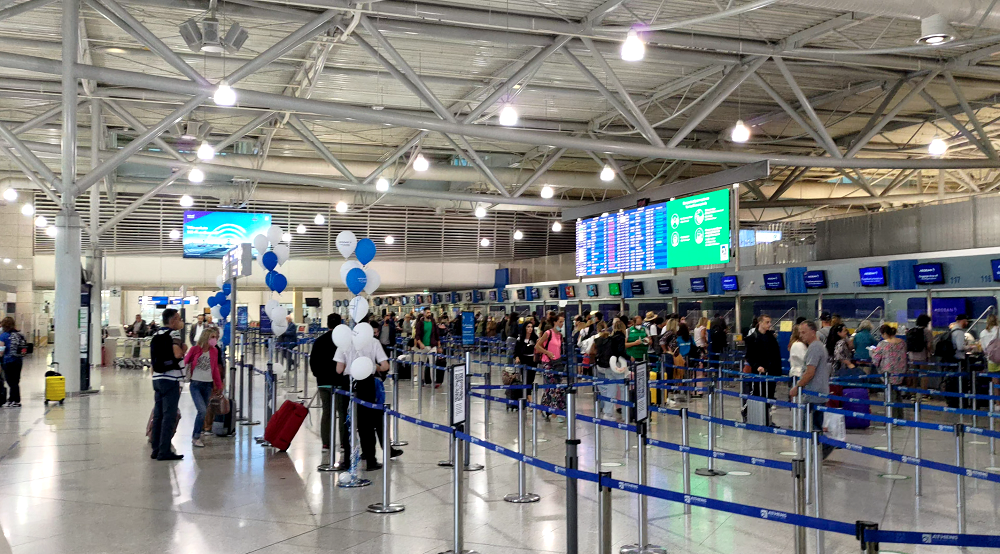 Aegean has dedicated check-in areas for business class passengers and separate lines for Star Alliance gold customers. The lines were rather long, but moved surprisingly fast. There weren't too many issues in this vain but I would have hoped to have a self-service baggage drop to speed it up even further.
Aegean business class passengers are also allowed to use the fast track security lanes for a faster security check in select ariports such as Helsinki and Athens.
Lounge
The Aegean Airlines Business lounge in what they call "the intra-Schengen area" or hall B in Athens Airport was quite a disappointment. I entered the lounge and greeted the lady at the entrance – and nothing. She didn't say a word, she just scanned my boarding pass and continued to chat with her friend. No welcome, no hello not even a smile. A gentle silent fuck you was my first impression of the Aegean Business lounge. 💩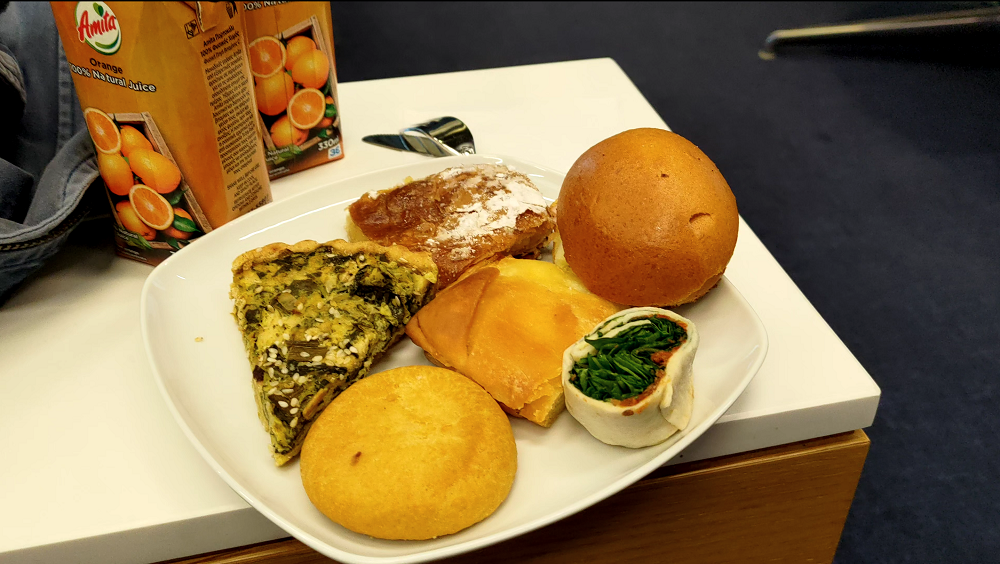 The food section consisted mainly of pastries that had an identical taste. There were quite a few options for drinks though and they even had a barista working there preparing coffee on demand. In terms of drinks, there's something for everyone; juices (even fresh ones), coffee, tea, soda, wine, vodka, beer… You name it. If only their food had been on par with their drinks.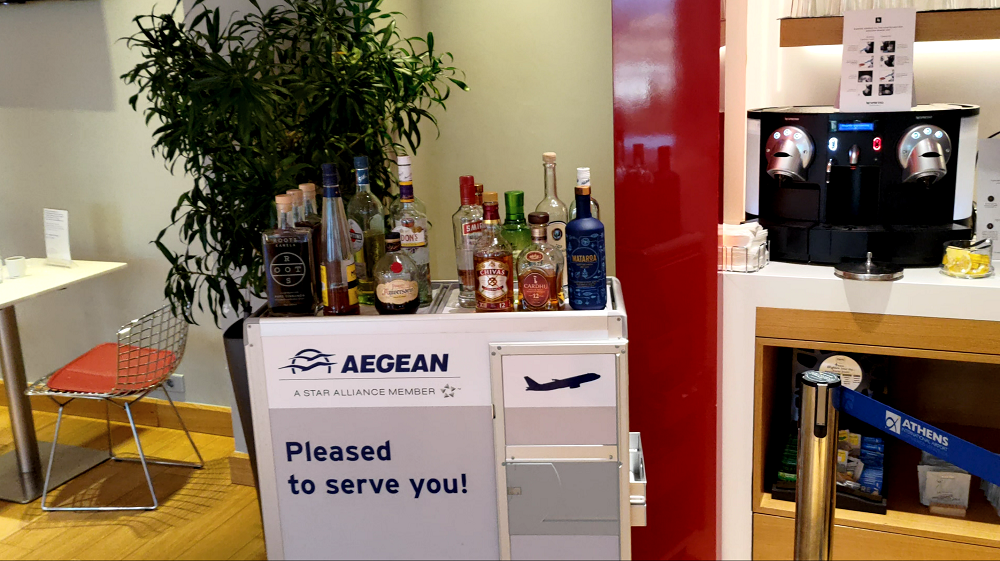 The lounge was rather small and looked like it has been crying for an updated look ever since the 90s. There weren't too many amenities there at all. The bathrooms are located next to the reception, but they were closed "for cleaning" for my entire stay. So I couldn't take my pre-departure crap – something that came to haunt me later during my trip. 😵‍💫 No wonder other Star Alliance airlines like Lufthansa have their own lounges in Athens.😄
Aegean Business Class
While the plane was still on the ground, we were given an option of three welcome drinks: water, orange juice or sparkling wine. I was impressed given that a welcome drink is usually omitted on short haul flights.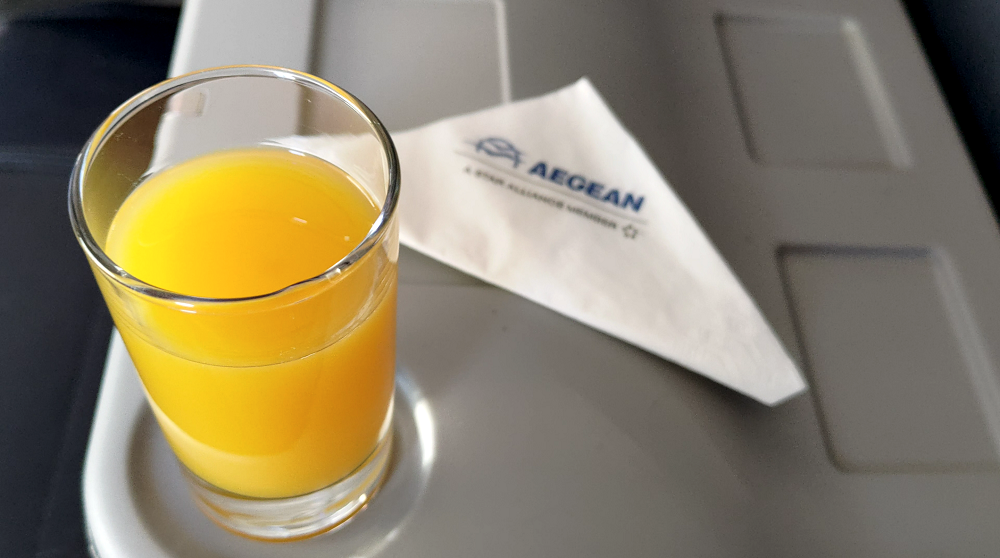 We had an option for two different types of meals. It was a morning flight for me, so the breakfast options were an omelet or a cheese bread. The meal was served with very delicious fruits. I don't know what Greeks do with their agriculture, but it works! Anything grown in Greece has so much more taste than what I am used to. Unfortunately, the cheese bread was quite a bit of a disappointment and I couldn't even finish it.
Just like in economy, in business class, you can have a variety of beverages for free. In business class, Aegean even has a wine menu with several options. And the wines do come from real bottles instead of being served in small bottles.
A nice plus is that Aegean has a free high-speed wifi for the entire flight for business class passengers. This is such a great perk and their wifi was decent too, although there might be some coverage issues in some areas. The service is provided by T-mobile and you need to accept their terms of service before connecting to the wifi.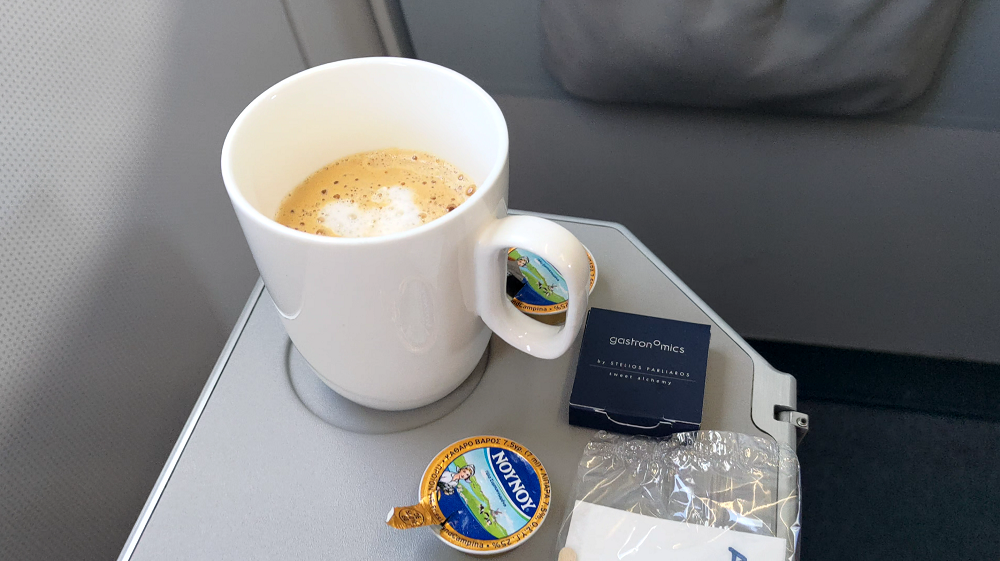 Then it was time for my haunted crap. I when I was in the bathroom, the flight attendants started banging on the door. Yes, I was taking my time, but it's Aegean's fault for having their bathrooms closed until further notice in the lounge (I refuse to believe they were cleaning them for an hour). When I got out, the reason I was kicked out of the bathroom was that the captain needed to use it. 🤦 If the captain can't wait for 10 minutes, then maybe he should have his bladder checked. 🤷🏼‍♂️
At any rate, the flight attendants were friendly and ready to be of help when needed. There was also a feeling of continuous service with the pre-departure drink, meal service and pre-landing chocolate.
Conclusions
Aegean sets the bar very high with their economy class experience, which gave me very high expectations for their business class. Maybe because of these high expectations I feel a bit disappointed. The lounge was not worth it and there are other equally low level lounges at the airport with an entrance fee of 20-30€ for economy class passengers. The business class food was maybe even worse than the economy class sandwich I ate on my other flight. Unless you need a more generous luggage allowance or more Aegean points, maybe it's better to skip Aegean business class for now.